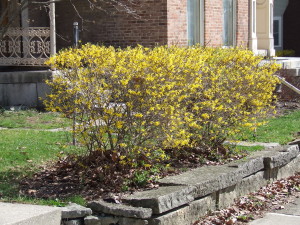 I have been keeping a careful eye out for the spring flush of Forsythia flowers. There hasn't been anything yellow in the landscape except daffodils. Then, we reached 75˚ for a couple of days and like magic, the Forsythia was in bloom!
Why do I watch this every spring? Blooming Forsythia is a phonological indicator that annual lawn weed seeds will be germinating. That means it's time to get WOW Supreme (Corn Gluten Meal pre-emergent weed control and fertilizer) on your lawn. I spent Saturday morning (which was extremely beautiful by the way!) tuning up my rotary spreader and applying WOW. This week we should get periods of rain and dry which helps activate the WOW's corn gluten meal, the active, all-natural ingredient in WOW. It is important for these wet and dry periods in order to get the most benefit from WOW in stopping weed seed to germinate. Some examples of weed seed that can be controlled are Dandelions, Crabgrass and Lambsquarter.
As mentioned, Forsythia is a phenolological indicator for weed seed germination. The definition of phenology (taken from Miriam-Webster Dictionary) is a branch of science dealing with the relations between climate and periodic biological phenomena (as bird migration or plant flowering):  periodic biological phenomena that are correlated with climatic conditions. Examples of some phenology statements or indicators are:
"It's time to plant corn when the oak leaves are the size of a mouse's ear." And
"Sow Morning Glories when Maple trees have full sized leaves."
These have been studied for many years. If you are interested in learning more about this science, here is a link from the National Phenology Network. Another good reference which I use here is "Coincide the Orton System of Pest Management" by D.A. Orton and T.L. Green (1989).
Ohio State University Extension also offers a good Bulletin on Organic Lawn Care, which discusses corn gluten use and other helpful topics in lawn care.
Spring is an exciting time. It seems everything has to be done at once, but it all gets done on the most beautiful of days!
Craig