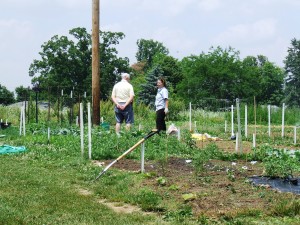 The goal of the community garden has always been to offer a place to bring families together and learn how to garden. We have a core of about 30 gardeners from the Tipp City, Ohio area that are the back bone of the vegetable plots. They offer advice, seeds and plants to the new gardeners that I am always trying to encourage to join us. We have 53 plots; each plot is 9' by 12' that a family or couple can easily manage. We have 2 water spigots so that the plots can be easily irrigated. The community garden is also a great site for some of our novice, younger employees to try some of the products they promote.
Early in the spring, the garden is a bustle of activity as everyone is trying to get their seeds and plants in. In the Miami River Valley, weather always shifts rapidly so if you have a decent day it is important to get everything done, whether that is weeding or planting or pest control. One of the most tedious jobs is weeding. This spring, as in all over the Midwest, we have had warm temperatures and a lot of rain showers. This has been great for all the vegetables planted, but it seems better for the weeds. I encourage gardeners to pull the weeds or use a natural product to control the weeds. It is important that the gardeners get on top of the weeds as quickly as possible before it becomes overwhelming. We offer some of the Gardens Alive! pest control products to help the gardeners when fighting weeds/pests. Our biggest insect pests are Flea beetles, Imported Cabbage butterfly, Bean beetles and Cucumber beetles. We also occasionally get Colorado potato beetles and Japanese beetles that can be a little bit of a problem. We have a family of deer that peruse the garden nocturnally. They haven't been a major issue and the neighbours seem to like to watch the young deer grow-up as the season moves.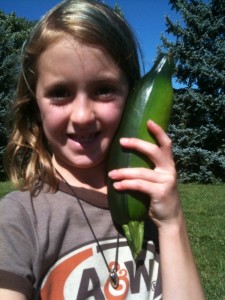 I love being part of this group because I never go through a season without seeing something in vegetable gardening that I have never seen before. For example, one brand new gardener created a 3 Sisters Garden with beans, corn and squash and was very successful. Even though this has a long history with Native Americans, it was a brand new concept to me. A day also never goes by when my knowledge isn't challenged by some of our more experienced gardeners. They always give me new insight into how to solve some common vegetable growing problems. Another benefit is that we use many photos of the community garden in this blog as well as all over our catalog and website.
Everything doesn't always go smoothly, and we can get pretty overwhelmed by a large number of pests and/or weather problems, but I hope that everyone that takes part in this community group learn and save memories that can be passed on to younger community members.
Happy gardening.
Craig