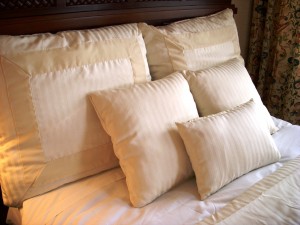 Rumors of bed bugs can leave even the most unflappable traveler freaked out – and for good reason! Bed bugs in hotel rooms will typically hide around the bed: in the bed frame, mattress, box spring, in the surrounding furniture, wall trim or electrical outlets. If your hotel room is infested, bed bugs will be attracted to you as you sleep. Bed bugs feed exclusively on blood; they typically feed late in the night and then go back into hiding. You certainly don't want them hiding in your luggage or other travel accessories. So, here are some tips to keep from taking bedbugs home with you:
Don't leave clothing on the bed, especially at night for extended periods of time.
Don't unpack clothes into dressers.
Hang clothes up in closet using hangers so that the clothes are not touching the walls.
Keep clothes in your suitcase and use the metal luggage rack provided in most hotel rooms.
Place the luggage rack away from walls and away from the bed area.
When you return home, unpack all clothes into a garbage bag and wash immediately in hot water and dry immediately following in high heat. This will kill anything attached to the clothes.
On all other items not washable, leave in the large compartment of the suitcase and use the Gardens Alive! Bio-Essentials Travel Bed Bug Eliminator Kit to fumigate the suitcase and contents. Make sure you leave the items in the fumigant bag, sealed for at least 48 hours. Once completed, all unwanted travelers will be eliminated. If you're a frequent traveler, you may want to try a mattress bag made specifically for preventing bed bug infestation in your own bed.
Our Bed Bug Eliminator Kit is coming soon to the site – keep an eye out for it as you get ready for 2015 travelling!